1. Fastest 100-meter hurdles wearing swim fins, individual, female
The fastest 100-meter hurdles wearing swim fins by a female is 22.35 seconds. It was achieved by Maren Zönker of Germany in Cologne, Germany, on Sept. 13, 2008.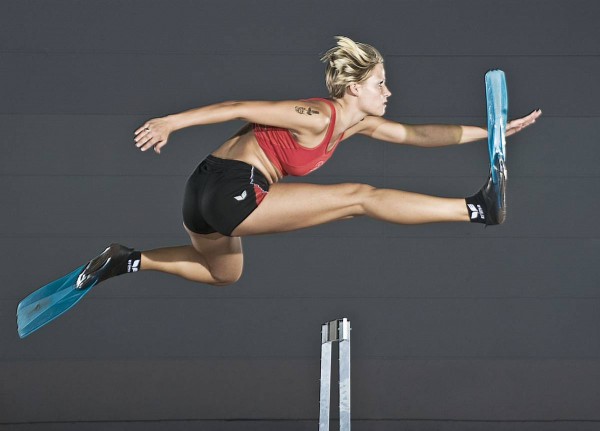 On May 4, 1951, Sir Hugh Beaver, then the managing director of the Guinness Brewery, went on a shooting party in North Slob in County Wexford, Ireland. He became involved in an argument over which was the fastest game bird in Europe, then later realized it was impossible to confirm in reference books. He then thought that a book supplying answers to such questions could be popular.
The first 197-page edition of the "Guinness Book of Records" was bound on Aug. 27, 1955, and went on to the top of the British best-seller list by Christmas. Over 400 million copies have sold since the first edition. The most recent one to hit the shelves is the "Guinness World Records 2010." Here is list of 50 interesting Guinness records that will surely amaze you.
2. Most people dressed as Smurfs
The most people dressed as Smurfs was 1,253 and was achieved by the Muckno Mania Festival in Castleblayney, Co Monaghan, Ireland, on July 18, 2008.
3. Largest rubber band ball
Joel Waul, pictured, of the United States pushes his bouncing creation.The largest rubber band ball, which weighs 4,097 kilograms (9,032 pounds), was measured in Lauderhill, Fla., Nov. 13, 2008.
4. Largest pocket knife
The world's largest pocket knife measures 3.9 meters (12 feet, 8 inches) when open, and weighs a total of 122 kilograms (268.9 pounds). It was designed by Telmo Cadavez of Bragança, Portugal, and handmade by Virgilìo, Raúl and Manuel Pires of Portugal, Jan. 9, 2003.
5. Heaviest lemon
The world's heaviest lemon weighed in at 5.265 kilograms (11 pounds, 9.7 ounces) on Jan. 8, 2003, and was grown by Aharon Shemoel on his farm in Kfar Zeitim, Israel.
6. Tightest frying pan roll
The tightest circumference of a 30 centimeter (12-inch) aluminium frying pan, rolled with bare hands in 30 seconds is 17.46 centimeters (6.87 inches), set by Scott Murphy at the NXB Team Training Center in Myrtle Beach, S.C., on July 30, 2007.
7. Most beer steins carried over 40 meters, female
The most beer steins carried over 40 meters (131 feet, 3 inches) by a female is 19. This was achieved by Anita Schwarz in Mesenich, Germany, on Nov. 9, 2008, in celebration of Guinness World Records Day.
8. Longest distance on a unicycle in 24 hours
Sam Wakeling covered 453.6 kilometers (281.85 miles) on a unicycle in a 24-hour period at Aberystwyth, Wales, United Kingdom, from Sept. 29-30, 2007.
9. Largest collection of 'Do Not Disturb' hotel signs
Jean-François Vernetti of Switzerland has collected 8,888 different 'Do Not Disturb' hotel signs from 189 countries across the world since 1985.
10. Longest fingernails, both hands
Melvin Booth (left) of Troy, Mich., had a combined fingernail length is 9.05 meters (29 feet, 8.3 inches). Lee Redmond(right), who had not cut her nails since 1979 and had them carefully manicured to reach a total length of 8.65 meters (28 feet, 4.5 inches), lost them when they broke off in a car accident in February.
Story
Woman with longest nails loses them in a crash
Lee Redmond, who held a Guinness World Record for her more than 28-foot-long fingernails before they broke off in a car crash, says it was the most dramatic event of her life. But the 68-year-old also admits that things are much easier without them.
11. Most T-shirts worn at once
The record for the most T-shirts worn at once is 227 and was achieved by Jef Van Dijck in an attempt organized by Unizo in Brecht, Belgium, on April 24, 2008.
12.  Stretchiest skin
Garry Turner of Great Britain is able to stretch the skin of his stomach to a length of 15.8 centimeters (6.25 inches) due to a rare condition called Ehlers-Danlos Syndrome, a disorder of the connective tissues affecting the skin, ligaments and internal organs. The collagen that strengthens the skin and determines its elasticity becomes defective, resulting in, among other things, a loosening of the skin and hypermobility of the joints. In more serious cases, it can cause the fatal collapse or rupturing of blood vessels.
13. Most Mentos in soda fountains
The most Mentos and soda fountains achieved in the same place is 1,911, and was conducted by the people of Latvia and students of TURIBA in Riga, Latvia, on June 19, 2008.
14. Heaviest jicama (yam bean)
The heaviest Jicama weighs 21 kilograms (46 pounds, 4.8 ounces) and was grown by Leo Sutisna in Bandung, West Java, Indonesia.
15. Largest display of Star Wars clone troopers built with interlocking plastic bricks
The world's largest display of LEGO® Star Wars™ clone troopers was composed of 35,310 individual models and was built by LEGO® in Slough, U.K., on June 27, 2008.
16. Largest collection of clocks
The largest collection of clocks belongs to Jack Schoff of the U.S., who has amassed 1,094 different clocks as of June 17, 2008.
17. Full body ice contact endurance
The longest time spent in direct, full-body contact with ice is 1 hour 42 minutes and 22 seconds by Wim Hof of the Netherlands on Jan. 23, 2009.
18. Largest chalk pavement art
The largest chalk pavement art measures 8,361.31 meters (90,000 feet) and was created by 5,678 children from schools in Alameda, Calif., for the Kids' Chalk Art Project between May 27 and June 7, 2008.
19. Fastest motorcycle handlebar wheelie
The fastest speed achieved during a wheelie on the handlebars of a motorcycle is 173.81 km/h (108 mph) by Enda Wright in Elvington, York, U.K., on July 11, 2006.
20. Longest skis
The longest skis are 534 meters (1,751 feet, 11 inches) long and were worn by 1,043 skiers in an event organized by Danske Bank on Drottninggatan in Öorebro, Sweden, on Sept. 13, 2008.
21. Oldest table tennis player, female
The oldest table tennis player is Dorothy de Low. De Low was 97 years old when she represented Australia at the XIV World Veterans Table Tennis Championships at Rio de Janeiro, Brazil, on May 25, 2008.
22. Largest crew of a canoe
The 'Snake Boat' Aries Punnamada Urukku Chundan of Alleppey, Kerala, India, measures at 43.7 meters (143 feet, 4 inches) long. It had a crew of 143, which included 118 rowers, 2 rhythm men, 5 helmsmen and 18 singers, and was rowed in public in Kerala, India, May 1, 2008.
23. Fastest skateboard speed from a standing position
The fastest skateboard speed from a standing position was 113 km/h (70.21 mph) and was achieved by Douglas da Silva at Teutonia, Rio Grande do Sul, Brazil, on Oct. 20, 2007.
24. Largest gathering of Santas
The largest gathering of Santa Clauses was achieved by 13,000 participants in the Guildhall Square in Derry City, Northern Ireland, U.K., on Dec. 9, 2007.
25.Smallest all-terrain armored vehicle
Built by Howe and Howe Technologies and measuring less than 1 meter (3 feet, 3 inches) wide, the PAV1 Badger is the smallest all-terrain armored vehicle. It is powerful enough to break down doors but small enough to fit in a lift. It was commissioned by Civil Protection Services of California.
26. Largest snail
The largest known land gastropod is the African giant snail (Achatina achatina). The largest recorded specimen of this species measured 39.3 centmeters (15.5 inches) from snout to tail when fully extended. Its shell length was 27.3 centimeters (10.75 inches) and it weighed exactly 900 grams (2 pounds).
27. Longest distance pulled by a horse – full-body burn
The longest distance pulled by a horse while on full-body burn was 472.8 meter (1,551 feet, 2 inches) by Halapi Roland in Kisoroszi, Hungary, Nov. 12, 2008.
28. Fastest lawnmower
The fastest speed on an unaltered lawnmower is 98 km/h (61 mph) by Tommy Passemante of the U.S. at Miller Motorsports Park in Tooele, Utah, on Nov. 18, 2008, for the MTV show "Nitro Circus."
29. Fastest 100m running on all fours
The fastest time to run 100m on all fours is 18.58 seconds and was set by Kenichi Ito of Japan at Setagaya Kuritsu Sogo Undojyo, Tokyo, on Nov. 13, 2008. The record attempt was part of GWR Day 2008.
30. Greatest distance cycled in 24 hours (unpaced)
The greatest distance cycled solo and unpaced in 24 hours is 890.2 km (553.14 miles) and was achieved by Marko Baloh of Slovenia at Lenart, Slovenia, on Sept. 6-7, 2008.
31. Longest beard
The beard of Sarwan Singh of Canada measured 2.33 meters (7 feet, 8 inches) from the end of his chin to the tip of the beard, as of Nov. 11, 2008.
32. Most eggs crushed with head in one minute
Ashrita Furman crushed 80 eggs with his head in one minute at the Panorama Café, Jamaica, New York City, on Dec. 10, 2008.
33. Longest ears on a dog
The longest ears on a dog measured 34.9 centimeters (13.75 inches) and 34.2 centmeters (13.5 inches) for the right and left ears, respectively, on Sept. 29, 2004. They belong to Tigger, a bloodhound who is owned by Bryan and Christina Flessner of St. Joseph, Ill.
34. Heaviest weight pulled with eye sockets
The heaviest weight pulled with the eye sockets is 411.65 kilograms (907 pounds) and was achieved by The Space Cowboy, aka Chayne Hultgren of Australia, on the set of "Lo Show Dei Record" in Milan, Italy, on April 25, 2009.
35. Heaviest vehicle pulled over 100ft
The record for the heaviest vehicle pulled over a level 100 foot (30.48 meters) course weighed 57,243 kilograms (126,200 pounds) and was set by Rev. Kevin Fast of Canada on the "Live with Regis & Kelly" television show in New York City on Sept. 15, 2008.
36. Largest hamburger commercially available
The largest commercially available hamburger is 74.75 kilograms (164.8 pounds) and is available for $399 on the menu at Mallie's Sports Grill & Bar in Southgate, Mich., as of Aug. 29, 2008.
37. Hairiest man
Victor "Larry" Ramos Gomez, pictured, and Gabriel "Danny" Gomez (both of Mexico) are two of a family of 19 that spans five generations all suffering from the rare condition called Congenital Generalized Hypertrichosis, characterized by excessive facial and torso hair. The women are covered with a light to medium coat of hair while the men of the family have thick hair on approximately 98 percent of their body, apart from their hands and feet.
38. Farthest squirting milk from eye
Ilker Yilmaz of Turkey squirted milk from his eye a distance of 279.5 centimeters (9 feet, 2 inches) at the Armada Hotel in Istanbul, Turkey, on Sept. 1, 2004.
39. Greatest altitude for a balloon skywalk
Mike Howard of the United Kingdom walked on a beam between two balloons at an altitude of 6,522 meters (21,400 feet) near Yeovil, Somerset, U.K., on Sept. 1, 2004. The feat was videotaped for the "Guinness World Records: 50 Years, 50 Records" TV show.
40. Heaviest apple
The heaviest apple weighed 1.849 kilograms (4 pounds, 1 ounce). It was grown by Chisato Iwasaki at his apple farm in Hirosaki City, Japan, and was picked Oct. 24, 2005.
41. Smallest and tallest living horses
As of July 7, 2006, the record for the smallest living horse was held by Thumbelina, a miniature sorrel brown mare who measures 44.5 centimeters (17.5 inches) to the withers and is owned by Kay and Paul Goessling, who live on the Goose Creek Farm in St. Louis, Mo.
Radar, a Belgian draft horse, measured 19 hands, 3.5 inches (79.5 inches, 202 centimeters) without shoes on July 27, 2004. Radar is owned by Priefert Manufacturing Inc. of Mount Pleasant, Texas. The two were brought together fora Guinness photo shoot Sept. 3, 2006. Guinness World Records 2006 Credit: Richard Bradbury/Guinness World Records.
42. Largest monster truck
Bigfoot 5 is 4.7 meters (15 feet, 6 inches) tall with 3-meter-tall (10 feet) tires and weighs 17,236 kilograms (38,000 pounds). It is one of a fleet of 17 Bigfoot trucks created by Bob Chandler of St. Louis, Mo., and was built in the summer of 1986. Now permanently parked in St. Louis, it makes occasional exhibition appearances at local shows.
43. World's smallest man, woman with the world's longest legs
He Pingping from Mongolia, the world's smallest man (74.61 centimeters; 29.3 inches) stands between the legs of Svetlana Pankratova from Russia, the woman with the world's longest legs. Pankratova's legs are officially 51.9 inches long — nearly 4 feet 4 inches.
Note: Pingping, who won the record in 2008, died in March 2010 from heart complications. He was 21 years old.
Story
For world's leggiest woman, romance is a tall order
Svetlana Pankratova is enjoying her celebrity as the woman certified by Guinness to have the world's longest legs (4-foot-4). But it has its challenges: "Some [men] don't like standing next to a woman that tall," she said. And finding dress pants? "Impossible."
44. Most people dancing Michael Jackson's 'Thriller'
Michael Jackson impersonator Hector Jackson performs with thousands of people at the Monument of the Revolution in Mexico City on Aug. 29, 2009. The Guinness World record of most people dancing Michael Jackson's "Thriller" is 13,597.
45. Farthest eyeball pop
Kim Goodman of the U.S. can pop her eyeballs to a protrusion of 11 millimeters (0.43 inch) beyond her eye sockets. Her eyes were measured on the set of the television show "Guinness World Records: Primetime," in Los Angeles on June 13, 1998.
46. Largest pie fight
Participants toss pies for the World's Largest Pie Fight in front of ABC Studios in New York, on Sept. 17, 2009, during "Live with Regis & Kelly."
47. Tallest man
The world's tallest man, Sultan Kosen of Turkey, is measured by Guinness Book of World Records' officials on Sept. 21, 2009. Kosen towers over the rest of the world at an astounding 8 feet 1 inch
Story
World's tallest man: 'I've had difficult life'
Turk Sultan Kosen, 27, says he is "proud and happy" at being named the new Guinness record holder for tallest man, and human, in the world. "Up until now, I've really had a difficult life," said the 8-foot-1-inch man, whose height was caused by a pituitary condition. "From now, I'm really going to have it a lot easier."
48. Tallest dog
Gibson, a Great Dane, was the world's tallest dog. He measured 107.18 centimeters from floor to shoulder and stood at 2.19 meters. In this photo, Gibson is playing with with his friend, Zoie a 19.05 centimeter Chihuahua. The tall California dog, who was battling bone cancer, passed away on Aug. 12, 2009.
Story

California dog dubbed tallest in world has died
Gibson, the California dog dubbed the tallest in the world by the Guinness Book of World Records, has died after a battle with bone cancer.
49. Deepest cycling underwater
The deepest cycling underwater is 66.5 meters (214 feet, 10 inches) and was achieved by Vittorio Innocent in Santa Margherita Ligure, Liguria, Italy, on July 21, 2008.
50. The most tattooed senior citizen
The most tattooed senior citizen is Isobel Varley, who covered 93 percent of her body with the ink art.
source: today.msn
Comments
comments