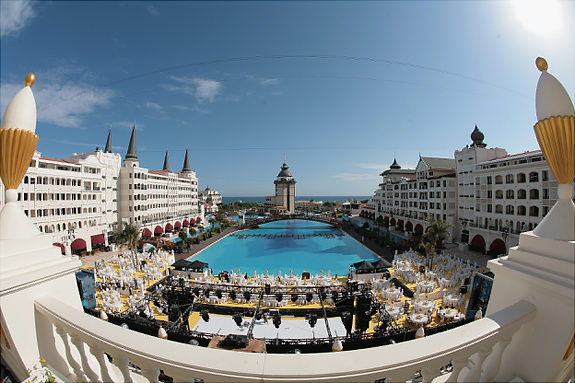 For many people a hotel is only a place for having a sleep. Here are the top 20 craziest hotels in the world,  that will give you a most entertaining destination for your next great vacation! So enjoy our list of craziest hotels and don't forget leaving your feed backs!
1. California's Madonna Inn, USA
With tons of wacky themed rooms, there's nothing dull about California's Madonna Inn. Take the "Yahoo" room, where the bed looks like a carriage and horns hang above the bed; or the "Rock Bottom" room where your bed appears sudmerged into a cave.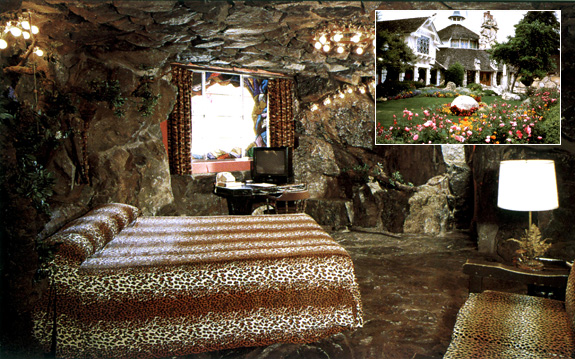 2. The Galactic Suite Space Resort, Barcelona
When The Galactic Suite Space Resort opens for business in 2012, well-heeled guests will be charged $4.4 million for a three night stay at the first planned hotel in space – eight-week training course on a tropical island included.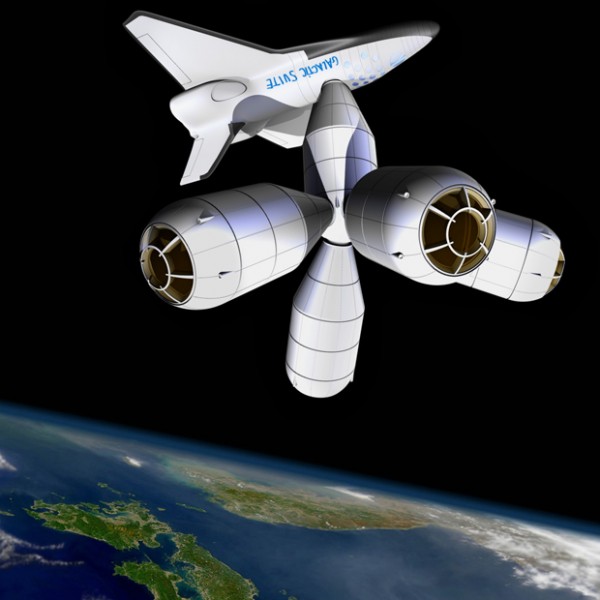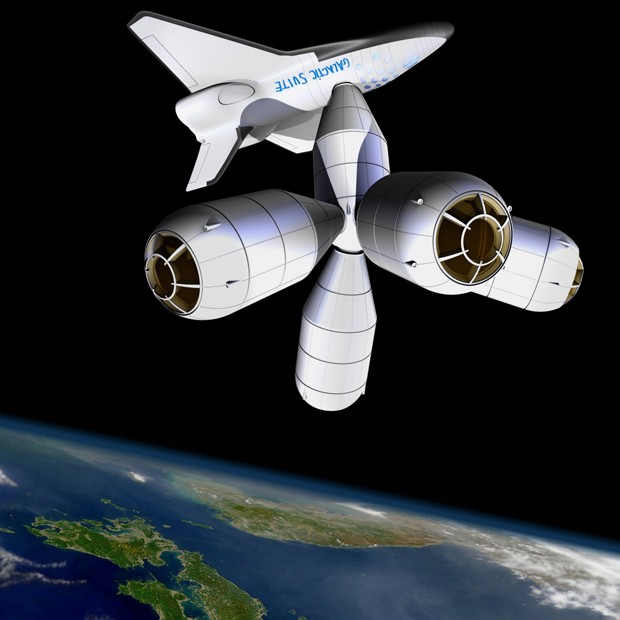 3. Goldfish Hotel at Amsterdam airport
This bizarre hotel is not for you, it's for your goldfish. Billed as the world's first goldfish hotel, it sits in the Amsterdam Schiphol airport and fish owners can drop off their scaly pets for the duration of their vacation, The five-sea-star hotel includes a tennis court, a beach with beach guard and a pool with slide.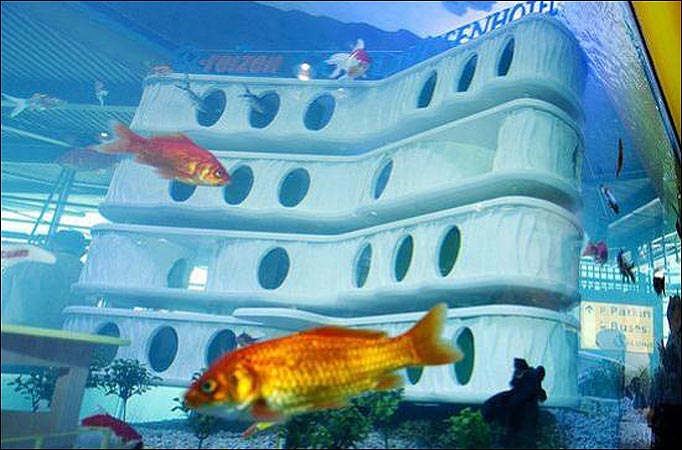 4. The Everland Hotel, Paris
This 'crazy' little pod is, in fact, a hotel. The Everland Hotel has only one bedroom, one lounge and a bathroom. "All facets are important constituents of the artistic idea: The room can be booked for one night only, the mini-bar is fully stocked and included in the price, breakfast is delivered to the door and a record collection stands at ones disposal.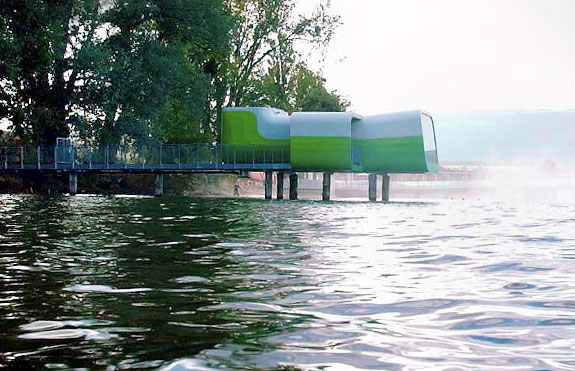 5. The Gamirasu Cave Hotel, Turkey
Some people pay to sleep in a cave. The Gamirasu Cave Hotel in Turkey is one such place. The cave "used to be a Byzantine monastic retreat, dated to about 1,000 years old," Now, visitors can sleep where the monks slept, in a cool Turkish cave.
6. The Capsule Inn, Japan
The Capsule Inn in Japan is one small sleeping space. Or maybe 'space' isn't the right word, maybe sleeping 'pod' is more like it.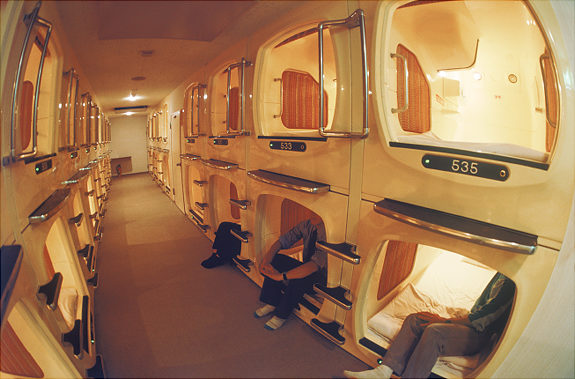 7. Utter Inn Stockholm, Sweden
The Utter Inn is yet another of Mikael Genberg's creations in his inimitable style. The Utter Inn is an underwater floating hotel with a typical swedish red house as the top floating part and an aquarium as the bedroom. Guests are taken by boat to the hotel, given instructions and then left alone. If they choose the deluxe package they will also get a dinner delivered by boat.
8. The Giraffe Manor, East Africa
The Giraffe Manor is an exclusive hotel in East Africa famous for its resident herd of giraffe. But the giraffes don't just wander the grounds the eat dinner with you by sticking their heads through the windows.
9. Mardan Palace Hotel, Turkey
What makes Mardan Palace Hotel 'crazy'? It's sheer cost: it is billed as Europe's most expensive hotel. It cost roughly $1.4 billion to build, and Mariah Carey, Sharon Stone, Richard Gere and Paris Hilton all attended its opening, according to Luxury Travel Advisor. A stay at this hotel on the Turkish Riviera could run you up to $18,000 per night. At the Mardan Palace Hotel, "it takes half an hour to cross the pool (by gondola, naturally). The spa has a room full of real snow. The bathrooms have gold-plated mirrors on the floor,".
10. Das Park Hotel, Linz, Austria
The Das Parkhotel is "constructed from repurposed, incredibly robust drain pipes. The external simplicity surrounds an unexpectedly comfortable interior – full headroom, double bed, storage, light, power, woolly blanket and light cotton sleeping bag. All other hotelery devices (Toilets, showers, minibar, cafe, etc) are supplied by the surrounding public space,".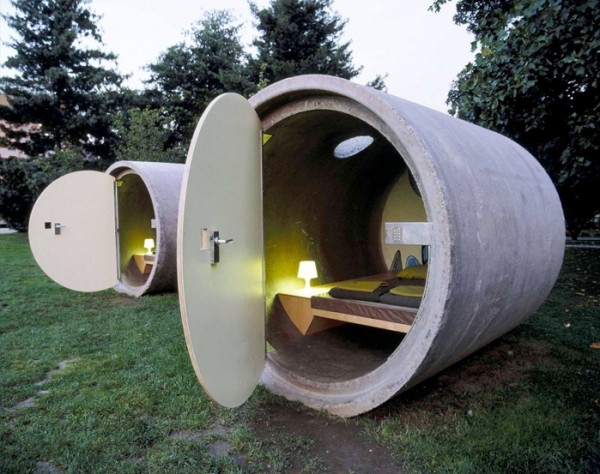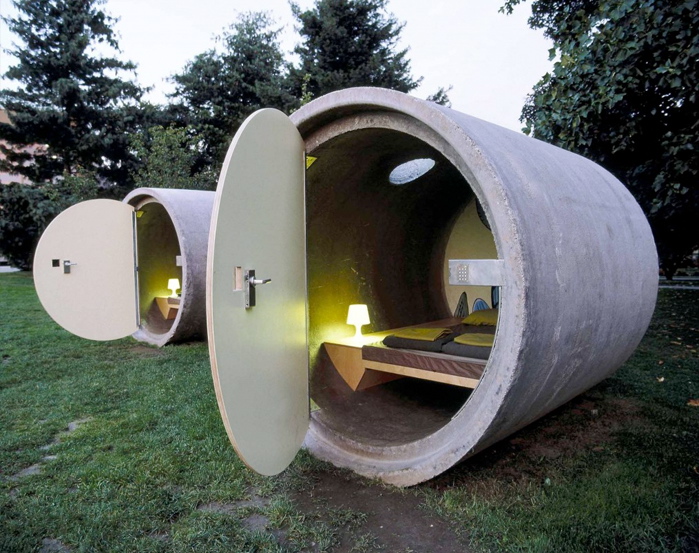 11. The Hotel IM Wasserturm, Germany
Exclusive, unique, a one-of-a-kind experience – the Hotel im Wasserturm, international luxury hotel in what used to be Europe's largest water tower, is one of the most unusual hotels in Germany. Classified as a heritage site, you will find an extraordinary interior design of timeless modernity behind its 130 year-old walls,".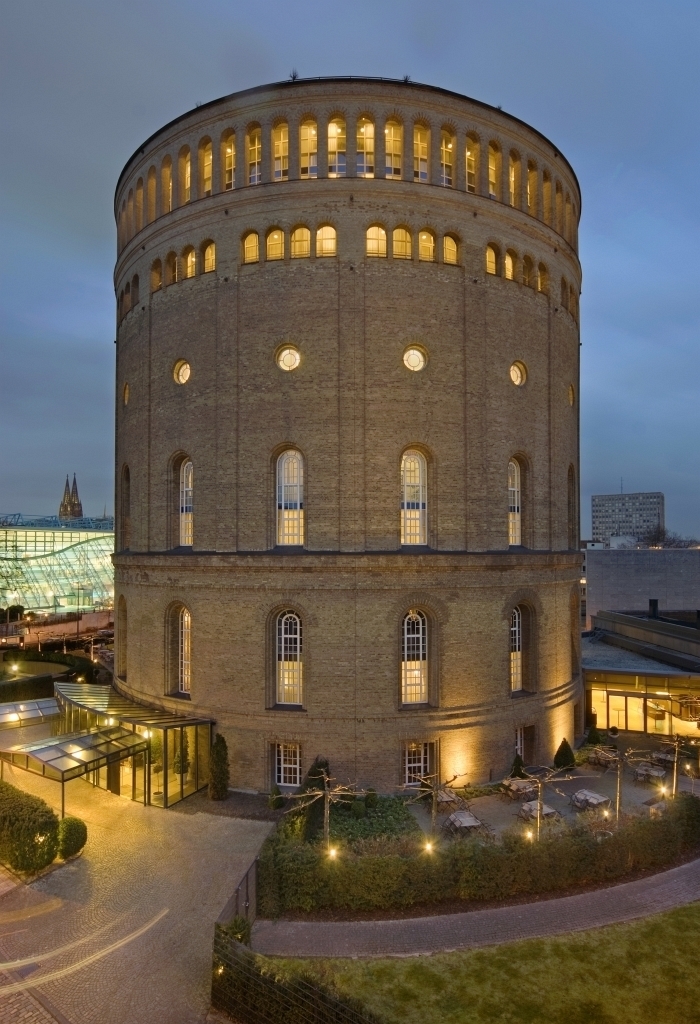 12. Jumbo Hostel in Switzerland
It's certainly not easy to sleep on the airplane. Unless you count the Jumbo Hostel in Switzerland. "Here you can spend the night onboard a real jumbo jet.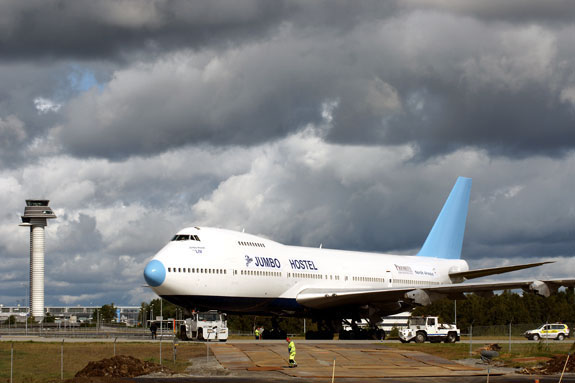 13. Burj al Arab Dubai
Dubai is known for its opulence and the Burj al Arab is no exception. This crazy hotel is designed to look like a blowing sail. The Royal Suite in this pricey hotel costs $14,976.  The suite is 8,400 square feet, offers a rotating bed and private cinema and overlooks the turquoise Arabian sea.
14.The Shady Dell, Bisbee, Arizona
The Shady Dell offers visitors the opportunity to sleep in one of nine vintage aluminum trailers in Bisbee, Arizona. "Whether it is the 33 foot Royal Mansion built in 1951 and restored with leopard carpet, martini glasses, Diner-style breakfast booth and phonograph with a collection of 78rpm records, or the 1947 Tiki Bus Polynesian Palace, complete with hand-carved outrigger bar and your own Tiki God, the Shady Dell's individual trailers will surely send you back to a time when freedom was just another word for jumping in your aluminum house on wheels, finding the Rat Pack on the radio and navigating the open road in search of your own slice of the American Dream,".
15. The Hobbit Motel, Woodlyn Park, Waitomo, New Zealand
The Hobbit Motel is a brilliant motel made with a creative bent. Located at Woodlyn Park in Waiton, the motel has a warm and homely feel. The world's first hobbit Motel started as the only motel with a U –Drive Jet course. Later Billy Blacks Kiwi Cultural show attracted and amazed people from all around the globe. The motel also has a bar and restaurant to entertain people. In other words, The Hobbit motel adds a unique dimension to the culture of New Zealand.
16. Magic Mountain Hotel, Panguipulli, Region X, Chile
Magic Mountain Hotel is located within the Natural Reserve Huilo Huilo about 56 km / 35 miles from Panguipulli. The Lodge was built using exclusively local wood and has a very unique architectural style similar to a volcano. The cozy 9 superior rooms are decorated in a warm natural and pleasant mountain style. Additionally the lodge offers 10 rustic log-cabins. The general facilities include a cozy restaurant that prepares local specialties, bar, natural tree trunk hot tub, sauna, mini-golf court and internet access.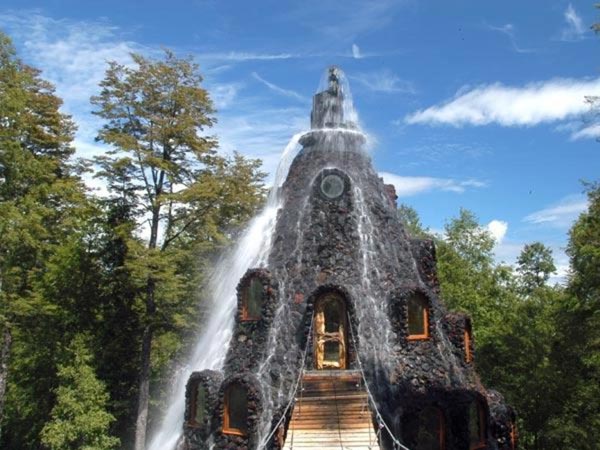 17. Quinta Real Zacatecas, Mexico
One of the world's most unusual hotels, Quinta Real Zacatecas is built into the grandstand of the restored San Pedro bullfighting ring, which was built in the 19th century and witnessed its last corrida in 1975.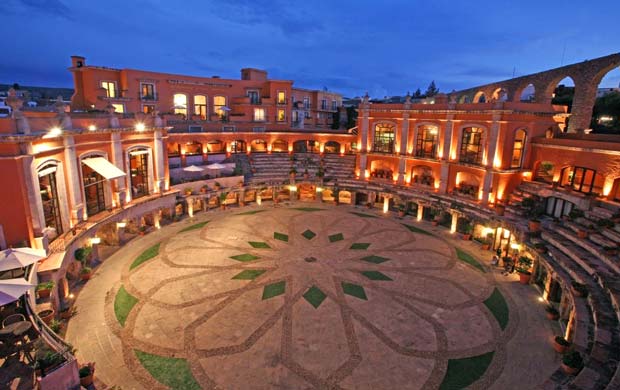 18. The Marmara Antalya, Turkey
This revolving hotel is a feat of engineering. The 2750-ton building floats in a tank of water, allowing smooth rotation and giving guests constantly changing views of the Mediterranean.
19. Kumbuk River Resort, Buttala, Sri Lanka
KumbukRiver is a 16-acre oasis nestled on a resplendent corner of Sri Lanka's south-east.  Made famous by its massive 2-story primary villa in the shape of an elephant, this eco-lodge is situated on the banks of a lively river on the edge of Yala, Sri Lanka's premier wildlife sanctuary. Lanka's premier wildlife sanctuary. While you can sleep in the elephant's belly, the resort also features two other chalets for larger groups. Small groups are have exclusive use by reserving the entire resort.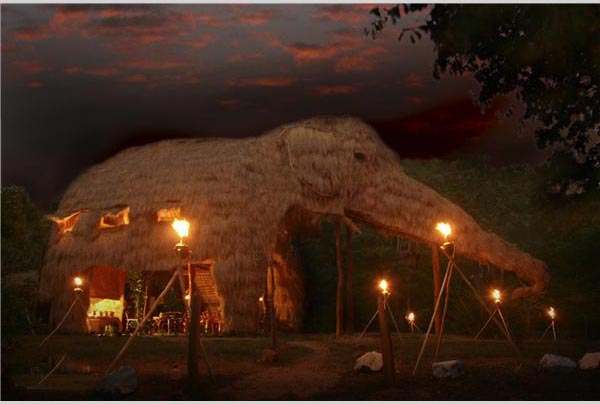 20. Null Stern Hotel, Switzerland
Billed as the world's first zero-star hotel, the Null Stern Hotel occupies the underground space of a nondescript apartment block. The hardened concrete structure and near-two-foot-thick blast doors were designed to take the full brunt of a nuclear or chemical attack.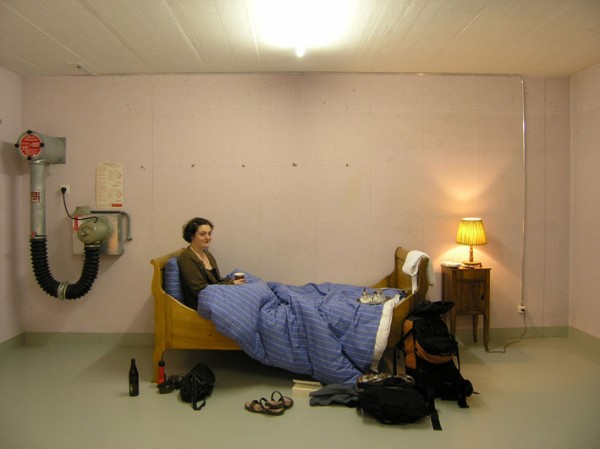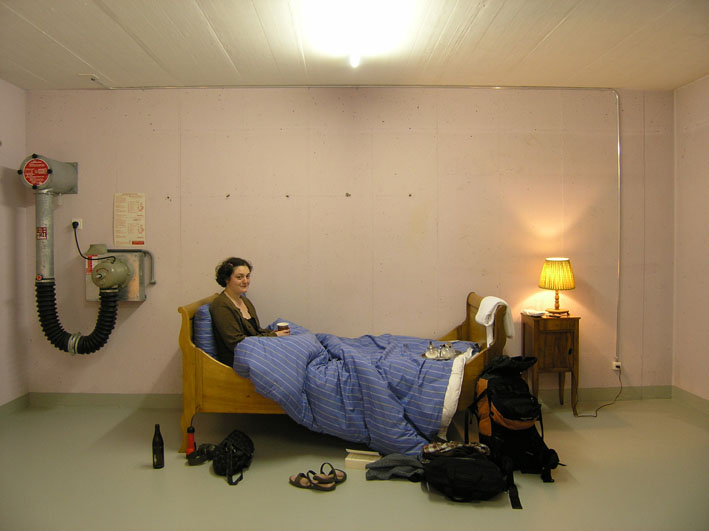 Comments
comments