1) The AURA Residence on the island of Cyprus is a "very modern and futuristic-looking villa" that is being entered into the World Architecture Awards. "The philosophy behind the (exterior) design of The AURA Residence was based on the Great Wave off Kanagawa, a famous woodblock printing by the Japanese artist Hokusai.
Our world is full of smart people who always design craziest homes. Lets take a look at some of the craziest home around the world.
2) The blog Hooked on Houses recently dug up photos of Wisconsin's Futuro house, known as the "UFO house" because it's, well, shaped like a spaceship. The good news: looks like you can rent it for a summer vacation.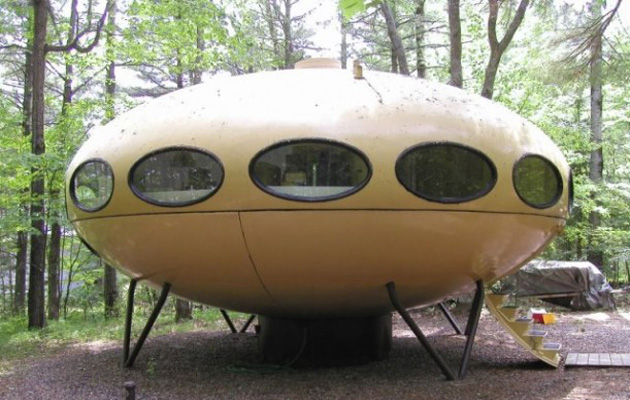 3) Oh poo! This toilet-shaped house – named Haewoojae, which means "a place of sanctuary where one can solve one's worries" – was designed by the chairman of the organizing committee of the Inaugural General Assembly of the World Toilet Association, who hopes that it will bring attention to the world's sanitation problems, according to Freshome.com. It is located in Suweon, which is south of Seoul, Korea.
4) This 8,500-square-foot, crazy home in Mallorca, Spain is actually a renovation of a 1960s Mediterranean villa – though you'd never know it from its uber-modern facade. "Casa Son Vida 1 aims to redefine the notion of the luxury villa by moving most of the paradigms of luxury towards a more contemporary and forward-looking expression of architecture and technology. The project pushes the envelope in every direction and every sense; it is highly sustainable, basically off-the-grid, gives an unheard of sense of space and place, explores new construction technologies, and enters into a critical dialogue with the decorated box buildings in its vicinity. Casa Son Vida 1 is unavoidably exuberant and unabashedly outrageous," the architects say.
5) This home gives the phrase "have you been living under a rock?" a whole new meaning. The house, built into a gigantic boulder, sits near the coast of Portugal. Search homes for sale and for rent in New York.
6) It's quite the man cave. Jimmy Grey says he's been out of work for almost a year and needed a project to stay busy. So with the heavy snowfall this winter, the 25-year-old laborer got to work on an extreme igloo in his family's yard in Aquilla (ah-KWIL'-uh), about 30 miles east of Cleveland. His four-room creation has 6-foot ceilings and an entertainment room. He powers the TV with an extension cord plugged into an outlet in the garage. He also ran wires for cable television with surround-sound stereo. Grey says candles help add ambiance for nighttime get-togethers with friends, and the freezing temperatures mean that the beer never goes warm.
7) The 'Waldspirale' (Forest Spiral) in Darmstadt, Germany was the final architectural masterpiece designed by Austrian artist Friedensreich Hundertwasser before he passed away. It's an apartment complex with 105 units, an interior courtyard with stream, a restaurant and a cocktail bar near the top of the tower. The roof is planted with grass and shrubs.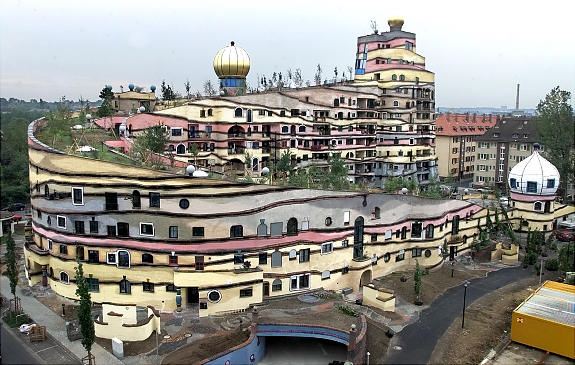 8) This is the three-story home of Curt and Deborah Sleeper in Festus, Missouri. The home was built inside a cave.
9) The Dome Homein Pensacola Beach, Florida, constructed to withstand hurricane force winds, has proved its worth! While most of the homes around it were destroyed or heavily damaged, the Dome Home was basically unharmed.
10) This odd home sits all alone in the Alps, its feet proudly holding up the irregular shaped living area.
11) While at first glance this house looks to be a UFO, it's actually the earthly product of a Finnish architect. Called the Futuro House, it was designed in the late 1960s by Matti Suuronen and was light enough to be moved by helicopter, according to the New York Times.
12) Brrrr … This crazy-looking home will make you feel a little, er, cold. Two Detroit artists are encasing this home in ice in an effort to draw attention to the housing crisis that has ramsacked America. They call the project "Ice House Detroit."
13) This strange, "earthy" home is crafted out of rocks and covered in moss.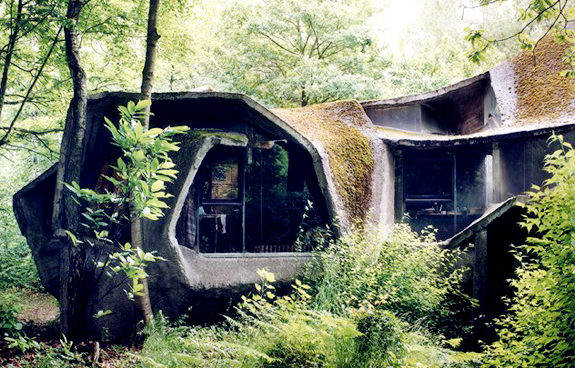 14) The master bed in this home is suspended against a wall, above another glass floor, bringing a tangible sense of the tropical outdoors into the house, according to sellmodern.com.
15) Architect Frank Lloyd Wright's designed house, Fallingwater, completed in 1939 as a weekend cottage for Pittsburgh department store owner Edgar J. Kaufmann, sits over a waterfall May 20, 2002 in Mill Run, PA. The house is undergoing an $11.5 million restoration project targeted at preserving the home.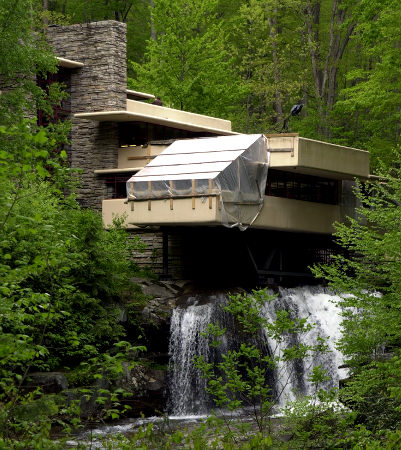 16) It's a bird, it's a plane, it's a command center?! No, it's a private home in Maryland. This uber-modern structure is made from brushed sliver steel.
17) This residential car-house in Salzburg was designed by architect Markus Voglreiter, who invested about one million euros for the exceptional building constructed in the shape of a Volkswagen-Beetle-car. The home was rented for 2500 euros monthly. Search for homes for sale and for rent in New York.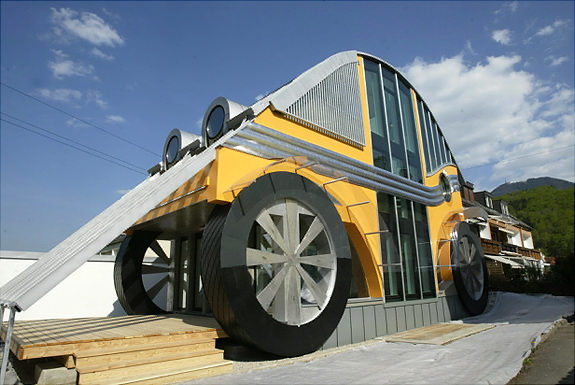 18) Thin is in – even in the housing market. This home, the skinniest house in New York City, had a pricetag that was anything but skinny! The red, 9 1/2 by 42 foot-long brick building sold for a reported $2.1 million.
19) This is the illuminated "Light House" in Drensteinfurt, Germany. The house's owner, Gisbert Hiller, has decorated his home with around 420,000 little bulbs running with its own generator.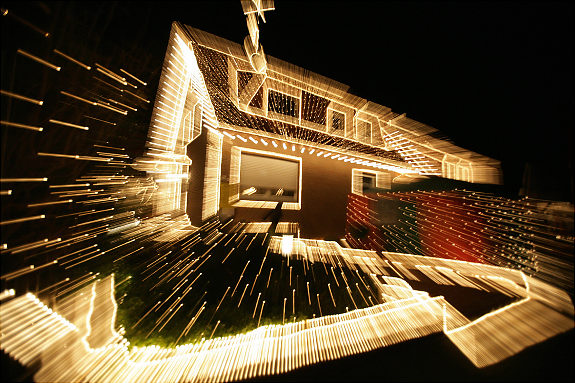 20) This house is one great catch! The homeowner had a Great White shark figurine plunged through the roof of his home on a suburban street in Oxfordshire, England.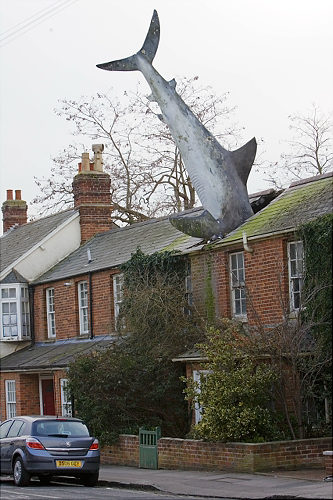 21) This home, designed by blank studio, inc. has won several international design awards. It sits in Phoenix, Arizona.
22) The Ennis-Brown House, designed by architect Frank Lloyd Wright in 1924, is seen March 7, 2005 in Los Angeles, California. The historic 10,000 square foot home was yellow tagged (limited occupancy allowed) by the City of Los Angeles after a retaining wall began to fail after recent rain storms in Southern California.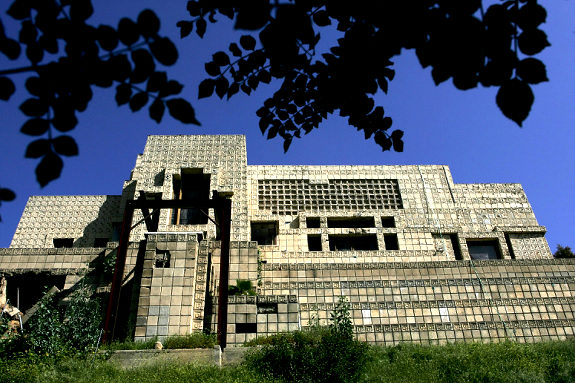 Named "House for an Art Lover" this home was built in 1901 by Glasgow's most famous architect, Charles Rennie Mackintosh. The design was submitted as part of a competition to build a house for an art lover and disqualified because it was sent in after the deadline. However, it was awarded an alternative prize for its uniqueness and built in Glasgow.
23) There are regular houseboats, and then there are these high-concept homes. These homes are anchored to land but they sit on planks that float in the water. According to the company's Web site, "what was required was the development of a uniquely maritime structure – neither house nor ship."
24) This primarily glass, spaceship-looking home is located on 5.6 acres of lush green land 20 miles outside of London. It has three bedrooms, sitting room with games area, indoor swimming pool, and of course – a crazy design.
Wanna jump from your bed right into a refreshing swimming pool? Looks like one homeowner in Auckland did.
25) This is a wardrobe made out of ice inside the "ice house," a house made, not surprisingly, from ice, in Valencia, Spain.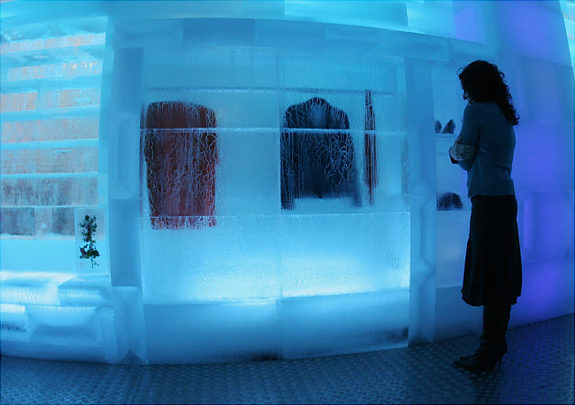 26) This "Spherical Tree House" sits high in the trees and is accessible by a suspension ladder.
27) This sleek Canadian home sits in Victoria, British Columbia. It has huge windows that overlook the water and a giant butterfly-looking gate at its entrance.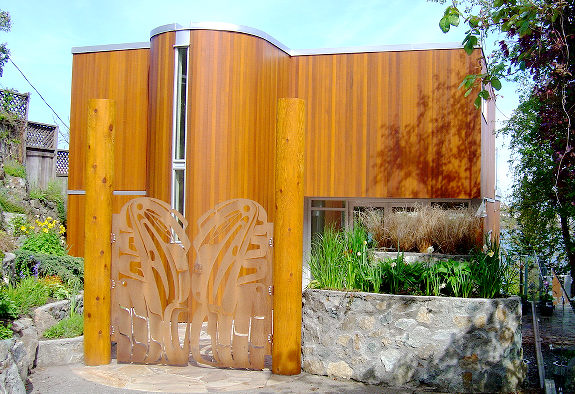 28) "The World Stands on its Head" ("Die Welt Steht Kopf") House on the Baltic Sea Island of Usedom stands nearly completed on September 3, 2008 in Trassenheide, Germany. The upside down house, complete with upside down interior furnishings, is the brainchild of Klaudiusz Golos and Sebastian Mikiciuk.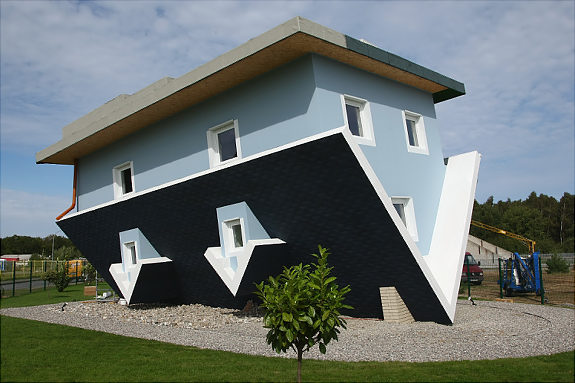 29) A house built with petrol drums and an old passenger bus in El Progreso, Honduras.
30) This odd bubble-shaped pink home sits on U.S. Route 280.
31) Hey drunkards, this home is for you! The Houston-based Beer Can House, created by John Milkovisch, is made entirely of, you guessed it, beer cans. "The house and landscape are adorned with many different types of beer that John, himself, drank (though his neighbors and his wife, Mary, were always glad to lend a hand!). Did he prefer one brand to the next? His favorite beer was always "Whatever's on special,".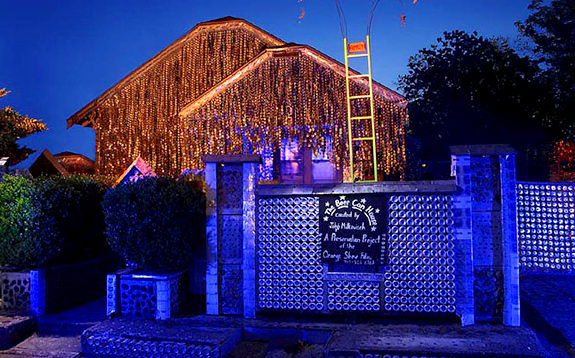 32) This mint green home was constructed in the shape of a spaceship.
33) Facade of the "Porcelain House", built by Chinese collector Zhang Lianzhi, on November 1, 2008 in the Heping district of Tianjin, China. Over 400 million porcelain fragments, 5,000 ancient vases, 4,000 antique china dishes and bowls, over 20 tons of crystalline rocks and agate, 400 white marble stone carvings were incorporated in the five year refurbishment of the unique French styled house. Valued at over $65 million, 'Yuebao House' is open to the public as a museum, displaying wares of china, wood, lacquer and bronze collected by the owner over the past two decades.
34) This interesting abode is in Broughty Ferry, Dundee, Scotland. It's glass structure gives residents tons of natural sunlight.
35) Maria Ponce, 76, stands inside her house made out of plastic bottles, in the village of El Borbollon, San Miguel Province, El Salvador. Maria built up the house four years ago with plastic bottles because she did not have enough money to make it in the usual way.
36) Vertical lines and large windows set this modern, single family house apart from the crowd.
37) Artist Sumer Erek builds a house out of freesheet newspapers March in London, England. The house will be constructed from newspapers delivered by Metronet, who collected the papers from tube trains.
38) Vladimir Michkov sits inside his house, which he built from empty bottles. The Russian builder took four years to build his dwelling.
39) Joyce and Irwin Hunt and their child relax on the porch of their Andrew Geller-designed summer home on Fire Island, New York.
40) Visitors walk past the "Dotty Wotty House." Artist Tyree Guyton creates folk art by covering part of a neighborhood with polka dots in what he calls "art for the people and medicine for the soul."
41) Men work on building a house with crates of Carlsberg beer in the Netherlands.
42) A Moroccan man wearing a hooded jalaba passes in front of a strangely designed house in Sharf with a glass windowed observation room in a 1970's style of architecture.
43) Want to live by the water? Doesn't sound so bad. How about in it? Um, maybe not so much. But that's how this house, designed by John Pardey Architects, is situated. It's stairs go right into the lake.
44) These homes look normal, right? Well, they're not. The homes, near Chalford in England were built in such a steep area that residents cannot drive their cars up the narrow paths to the doors of their homes and have employed a donkey to help carry heavy bags 100 metres up the steep slopes.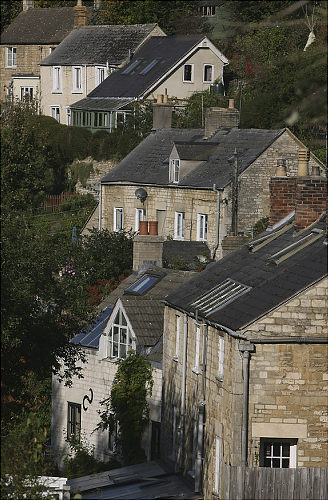 45) Margaret Tyler poses for photographs in her home in North London with some of the estimated 2000 – 3000 items of Diana memorabilia.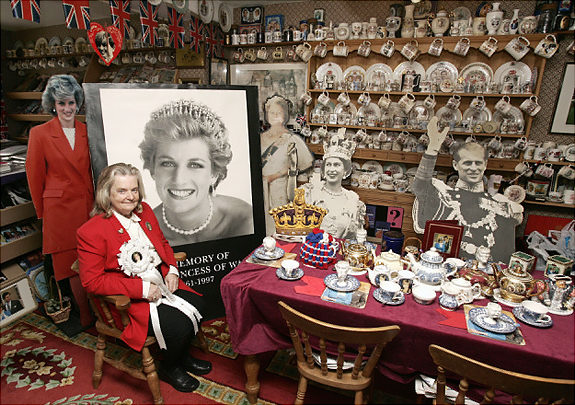 Comments
comments