Naturally, as human beings blessed with taste buds, we can't resist tasting new, different and delicious things every now and then. To explore the area of food, we visit various places and restaurants- within and out of our region- that offer something unique and different from what we have been trying for years now. Some settle for Chinese whilst some develops a taste for seafood. Just like that you settle for a place you think is best in all ways- the food is delicious, contains nutritious ingredients and is economical. And then there are some eateries that became a favorite for the majority in a matter of years.
All of us are familiar with Kentucky Fried Chicken (KFC), Burger King, and the likes that offer scrumptious burgers, sandwiches and drink that later tend to become their signature. One of these famous restaurants that spread all over the world is McDonald's. Bet you have been there and cannot resist the temptation of stopping by every now and then for the burger with the crisp fries or the shakes and coffee.
But not all that looks good is actually good. If you have been dining at such places more often, you may have been battling a few problems like that of obesity and higher cholesterol and sugar levels in your blood. Without knowing the nutritional value that this kind of food holds, we give rise to a lot of health issues. Such problems have been increasing on a very fast rate and it is high-time that people come to know what the root of all of it is.
Find out how nutritious these McDonald's creations (they have been termed 'junk food' for a reason) are:
Premium Crispy Chicken Club Sandwich:
This sandwich consists of the crispy chicken breast fillet, tomato slice, bacon, natural Swiss cheese, mayo and leaf lettuce on a toasted bakery-style bun (which alone has 8 grams of whole wheat). Although, McDonald's claims it to have less sodium and salt amount than usual, it still has 1410 milligrams of sodium. The calories amount to 670 grams saturated fat to 9 grams and cholesterol to 85 milligrams. It has gained favorable reviews from the critiques over the texture of the bun and taste, nonetheless, it is definitely not a good diet for those avoiding obesity.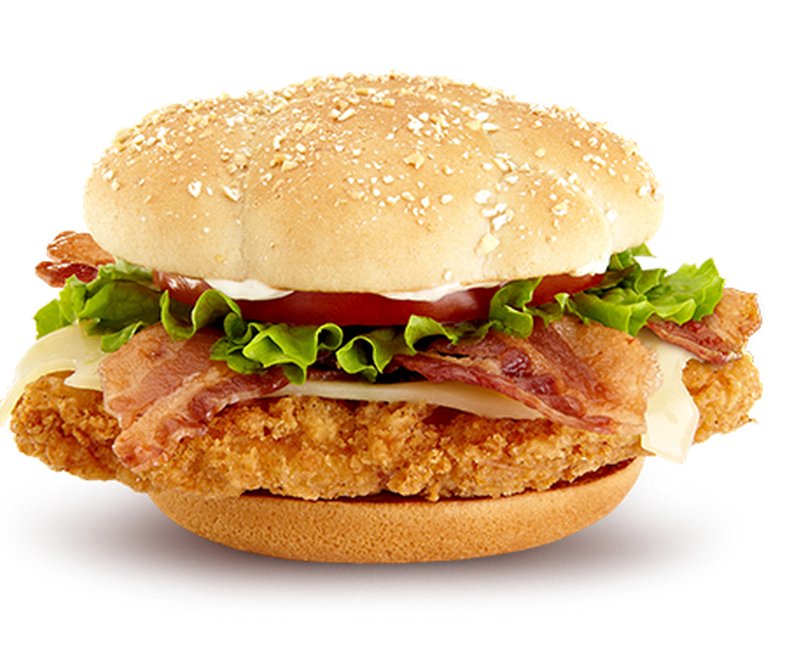 Bacon Clubhouse Crispy Chicken Sandwich:
This is pretty much the same as Bacon Clubhouse Burger as far as the ingredients go. This burger is made up of crispy chicken fillet and artisan roll (these alone are a concoction of multiple things), topped with tomato slice, thick-cut apple-wood smoked bacon, caramelized grilled onions, Big Mac sauce, pasteurized and processed cheddar cheese and a leaf lettuce. It has 750 grams of calories, 38 grams of fat, 1720 milligrams of sodium, 10 grams of saturated fat and 90 milligrams of cholesterol.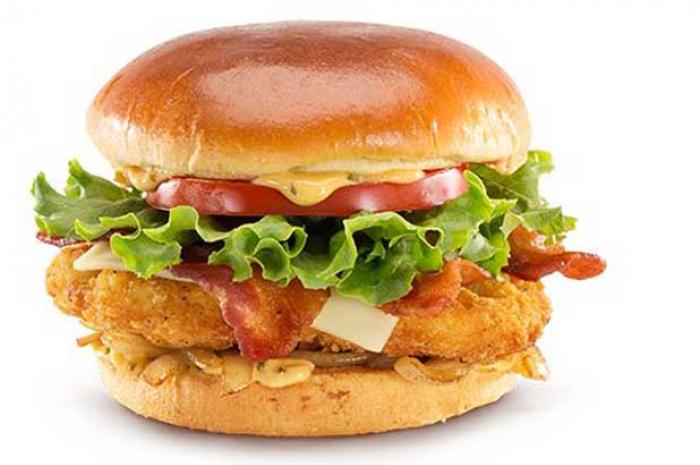 Vanilla McCafe Shake/ Shamrock Shake:
Who does not like McDonald's shake? This one has been on the top list for many shake lovers for years now. The classic vanilla shake, made with creamery reduced fat ice cream- topped off with whipped cream and a cherry is just so tempting. But even with the so-called reduced fat cream, the shake has 820 calories, 23 grams fat, 260 milligrams of sodium, 15 grams of saturated fat, 90 milligrams of cholesterol and 101 grams of sugar. The shake weighs a total of 22 ounces and is not as healthy as you would think it is.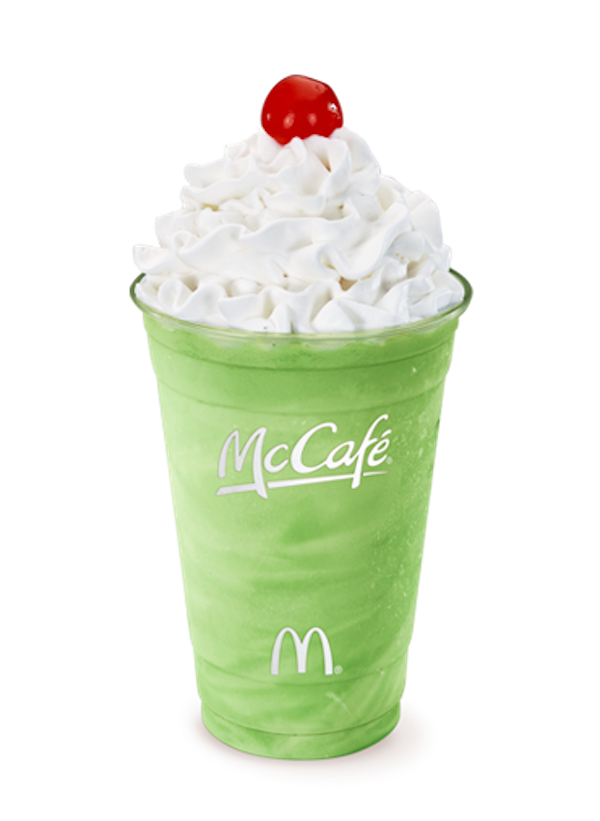 McFlurry with M&Ms:
Chocolate lovers went berserk when McDonalds introduced this shake. Even those on a diet could not resist as it claimed to have used reduced fat cream. Here is the surprise- the 16 ounces of this 'reduced fat soft serve vanilla ice cream, with M&M's candies swirled in'- has 930 calories, 33 grams of fat, 260 milligrams of sodium, 20 grams of saturated fat, 75 milligrams cholesterol and 128 grams of sugars. Not so tempting anymore, is it?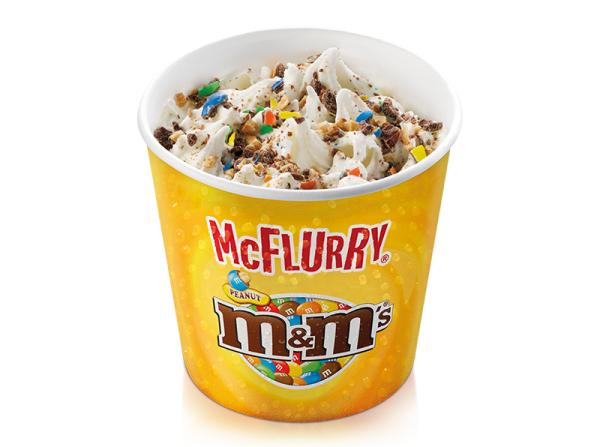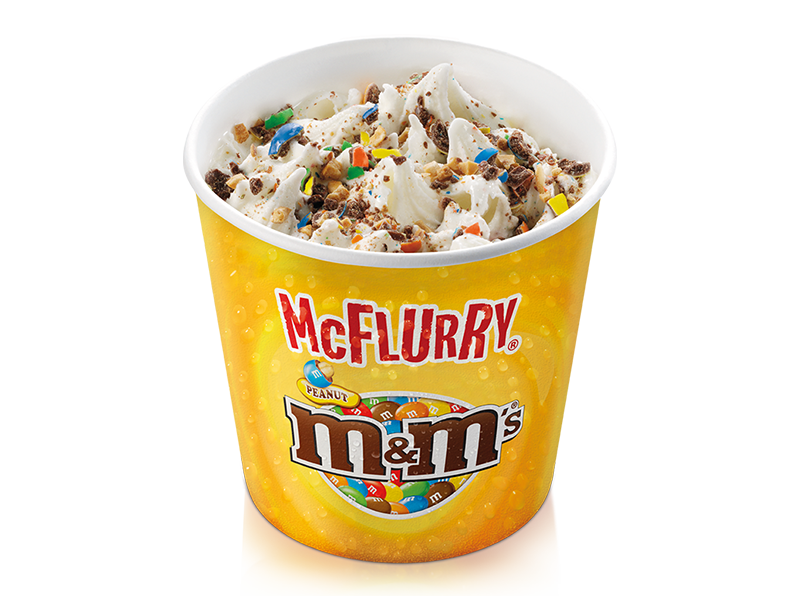 Big Breakfast with Hotcakes and Large Size Biscuit:
McDonald's breakfast deals have a lot of people pouring in early in the morning. One of the deals goes by the name of Big Breakfast with Hotcakes and Large Size Biscuit in the menu. It has scrambled eggs, sausage patty, a large biscuit, hash browns, hotcakes and salted butter. You may be thinking that it may be made up keeping in mind all the nutrition that one needs through this vital meal of the day. But you are wrong. It has 1150 calories, 60 grams of fat, 2260 milligrams of sodium, 20 grams of saturated fat, 575 milligrams of cholesterol, 61 grams of fat and 111 grams of carbohydrates. Not a very nutritious breakfast after all.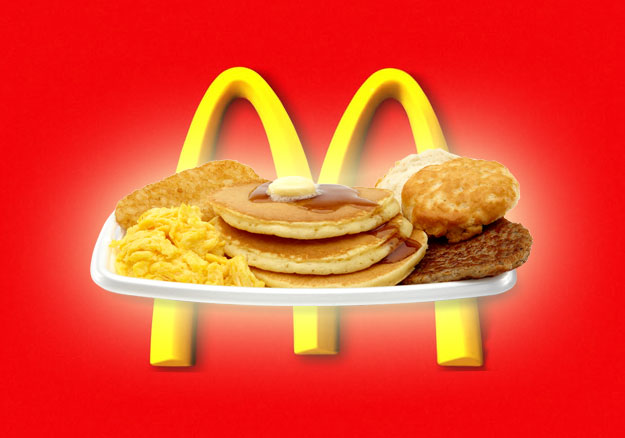 Premium Southwest Crispy Chicken McWrap:
This meal has 'crispy chicken breast  with cilantro lime glaze, crunchy tortilla strips, fresh spring greens, two half slices of tomato, cucumber slices, shredded cheddar jack cheese and a spicy, creamy habanero ranch sauce- wrapped in a soft, warm flour tortilla.' Even with all those vegetables and meat, it is completely unhealthy as it contains 670 grams of calories, 33 grams of fat, 1450 milligrams of sodium, 8 grams of saturated fat and 60 milligrams of cholesterol. If you lack all these, good for you, otherwise this is way too much poison for your body.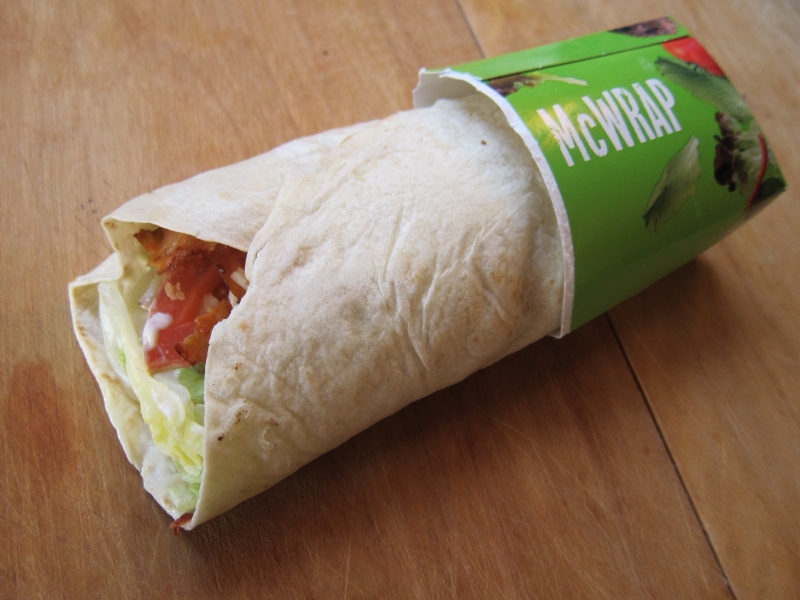 Bacon Clubhouse Burger:
We all rush to grab any item containing bacon, and if it is a creation of McDonalds, well who will be able to resist? Thick-cut Applewood smoked bacon, caramelized grilled onions, white cheddar, crisp leaf lettuce and fresh tomato, all lovingly layered on a quarter pound of hundred percent pure beef, topped with Big Mac special sauce is what makes up this scrumptious burger. But the facts tell us how this temptation may have adverse effects on our health. The whole burger weighs 120.5 grams with 720 grams of calories, 40 grams of fat, 1470 milligrams of sodium, 15 milligrams of saturated fat and 115 milligrams of cholesterol.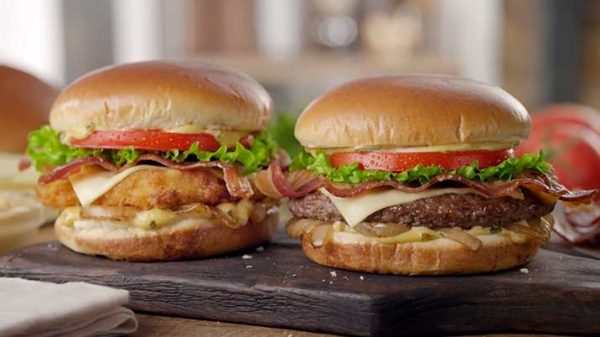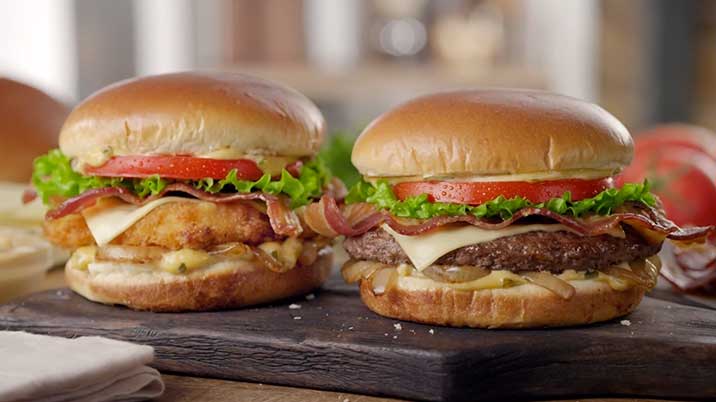 Double Quarter Pounder w. Cheese:
Its name is enough to know its nutritional value. The two-quarter pound has thick, hundred percent, beef patties,  simply seasoned with a pinch of salt and pepper, two slices melted cheese, slivered with onions and tangy pickles all on sesame seed bun. So naturally, it has 750 grams of calories, 43 grams of fat, 1280 milligrams of sodium, 19 grams of saturated fat and 160 milligrams of cholesterol. You should not be shocked. The burger weighs 120.5 grams per patty before it is even cooked!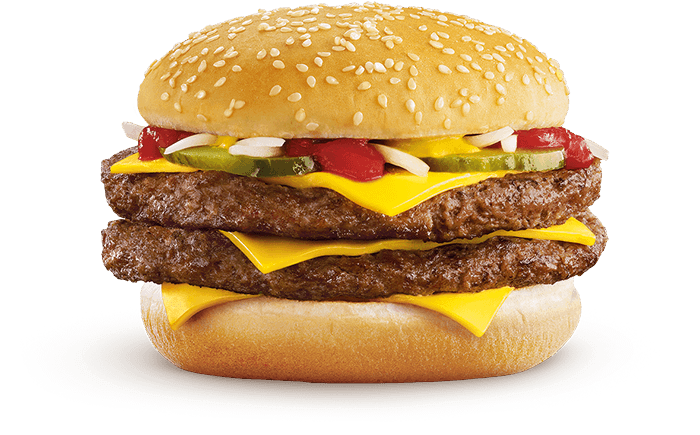 Strawberry McCafe Shake:
This one has been a favorite for those who love the sweetness of a strawberry. This classic shake has it all that make you want to slurp it down- creamy reduced fat ice cream with strawberry flavored deliciousness- topped off with whipped cream and a cherry- but you will be disappointed to know the nutritional value it has. 850 calories, 24 grams of fat, 260 milligrams of sodium, and 15 grams of saturated fat, 90 milligrams cholesterol and 123 grams of sugar is what makes up this 22 ounces of shake.
10-Piece Mighty Wings:
This was a different creation of McDonalds and instantly became a hit amongst those who love chicken.  The Mighty Wings are coated with multiple things like different kinds of wheat, flour, starch, sodium phosphates, spices, yeast, onion powder and a lot of other ingredients. It comes with various sauces like creamy ranch sauce, hot habanero sauce, honey mustard sauce, sweet and sour sauce, spicy buffalo sauce, tangy barbecue sauce and plain honey too. But the nutritional value it holds is definitely not going to be a hit amongst you- 960 calories, 63 grams of fat, 2900 milligrams sodium, 13 grams of saturated fat, 295 grams of cholesterol, 63 grams of fat and 40 grams of carbohydrates.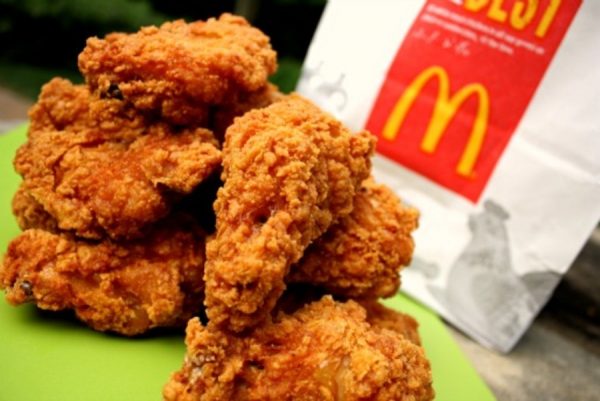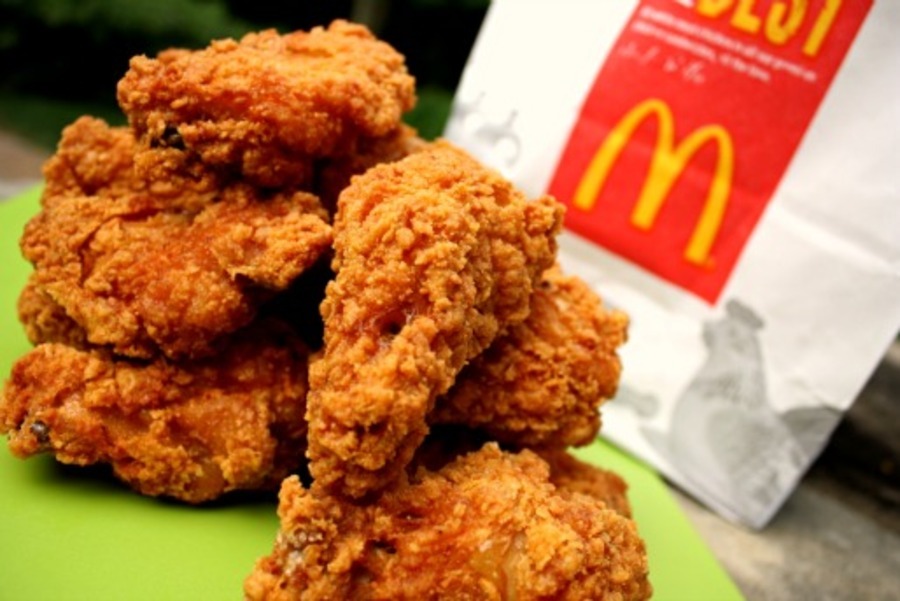 Comments
comments