Must Read Motivational and Design Quotes Visualized
Quotes are always considered as the best source for motivation and inspiration. As designer we need to get some inspiration and advice to brighten our minds and to perform our design task effectively . Some memorable quotes from artist and designer are the most provocative, inspiring, and essential words of wisdom which can really spark our minds.
Looking around the web you can find various quotes about design and creativity. However today we have a special collection of the most inspiring and motivational quotes you are exactly looking for. We hope you will enjoy the collection and will get some inspiration as well. Feel free to share your favorite design quote in comments if not mentioned.
YOU CAN MAKE A DIFFERENCE IF YOU TRY
SIMPLICITY IS NOT THE GOAL, IT IS THE BY-PRODUCT OF GOOD IDEA AND MODEST EXPECTATIONS
THOSE WHO DO NOT WANT TO IMITATE ANYTHING PRODUCE NOTHING
SIMPLICITY IS THE ULTIMATE FORM OF SOPHISTICATION
ART IS NOT WHAT YOU SEE, BUT WHAT YOU MAKE OTHERS SEE
QUOTE BY JIM JARMUSCH
LIVE LIKE'S THERE'S NO TOMORROW
DO WHAT YOU LOVE AND SUCCESS WOULD FOLLOW
LIFE WAS MUCH EASIER WHEN APPLE AND BLACKBERRY WERE JUST FRUITS
IF IT DOESN'T SELL, IT ISN'T CREATIVE
Thomas Edison quote
GOOD DESIGN IS OBVIOUS, GREAT DESIGN IS TRANSPARENT
GOOD ARTISTS COPY, GREAT ARTISTS STEAL
DON'T TRY TO BE ORIGINAL, TRY TO BE GOOD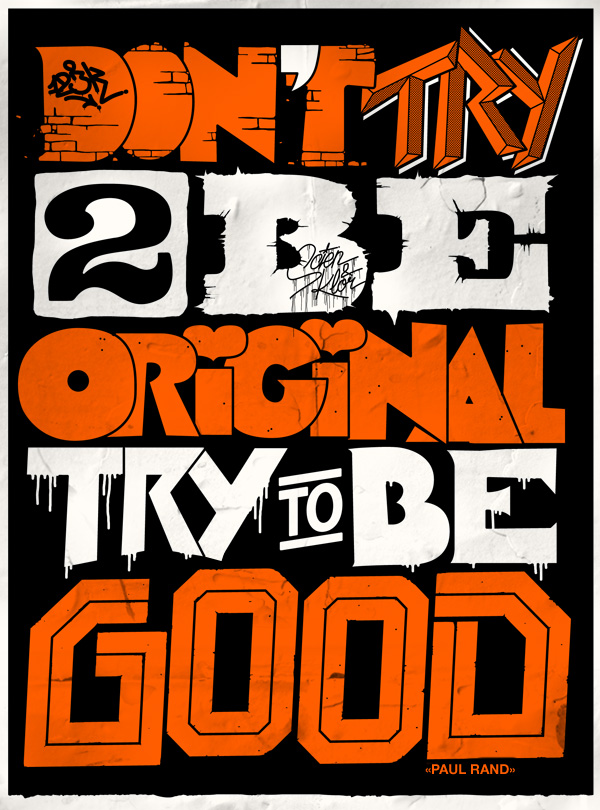 HAVE NO FEAR OF PERFECTION, YOU WILL NEVER REACH IT
COMIC SANS JOKE, NOT EXACTLY A QUOTE, WITH ALL DUE RESPECT
CLOSE YOUR EYES AND OPEN YOUR MIND
BE THE CHANGE YOU WANT TO SEE IN THE WORLD
CREATIVITY IS A DRUG, I CANNOT LIVE WITHOUT
LIFE IS HARD, ITS HARDER IF YOU ARE STUPID
DESIGN IS THINKING MADE VISUAL
DESIGN MUST SEDUCE, SHAPE, AND MORE IMPORTANTLY EVOKE AN EMOTIONAL RESPONSE
EVERY CHILD IS AN ARTIST, THE PROBLEM IS STAYING AN ARTIST WHEN YOU GROW UP
BELIEVE IN (YOU)RSELF
INK AND WATER DON'T MIX
DESIGNERS ARE MEANT TO BE LOVED, NOT TO BE UNDERSTOOD
Comments
comments