By Tabi, on January 6, 2011
Weaponry as clothing
This style could kill you … literally. (Or the person next to you.)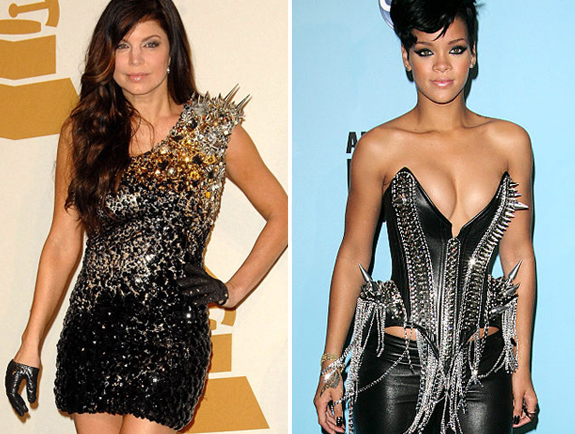 Yes, we get it – you're stylish, you're cool and you think you're famous (and hot) enough to pull off any style. Wrong. There are some trends that are so preposterous that not even the biggest names should show their faces in them. Unfortunately, they do. Scroll down to see and laugh at the celebs you love … wearing the trends you love to hate.
Pretending to be an animal
When grown men and women voluntarily put fuzzy animals on their heads, it may be time to consider mass therapy.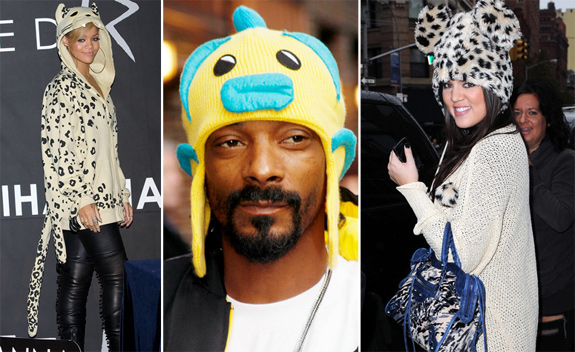 I'm rubber, you're glue
Don't you love coming home after a long day of work, grabbing a beer and slipping into a nice, comfy latex dress?
Fur-tastrophes
We hope that outfit goes well with red paint, because PETA is going to have a field day with this furry trend!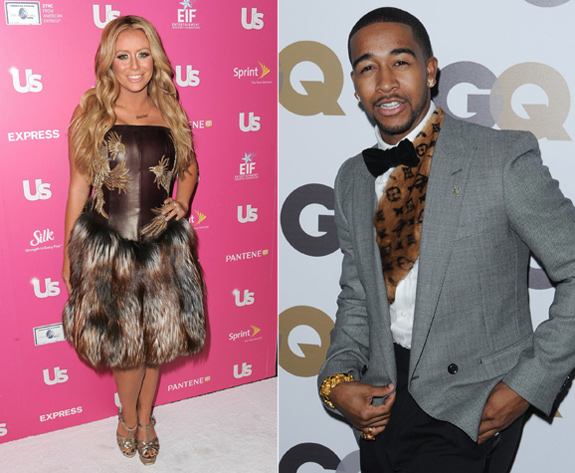 Pretending to be a peacock
We hope this feathered fashion takes flight … fast!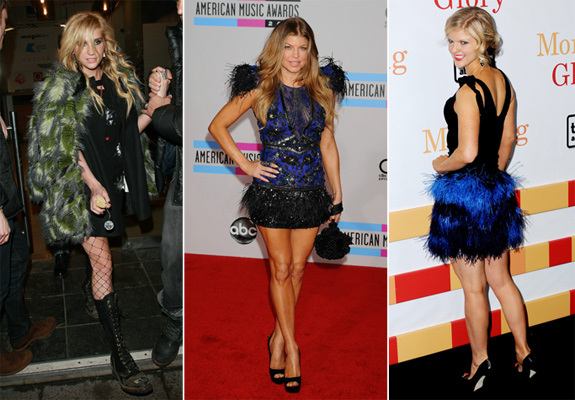 Helmet heads
How do you make a sexy supermodel and a blond bombshell look awful? OD on hairspray.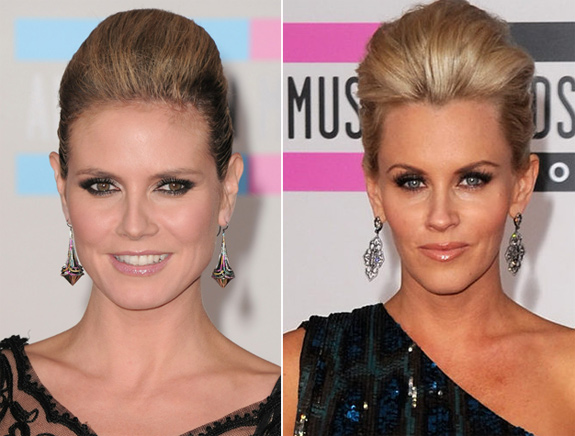 Someone's got their head in a twist .
If you're having a bad hair day, just put it in a ponytail … it's really just that simple.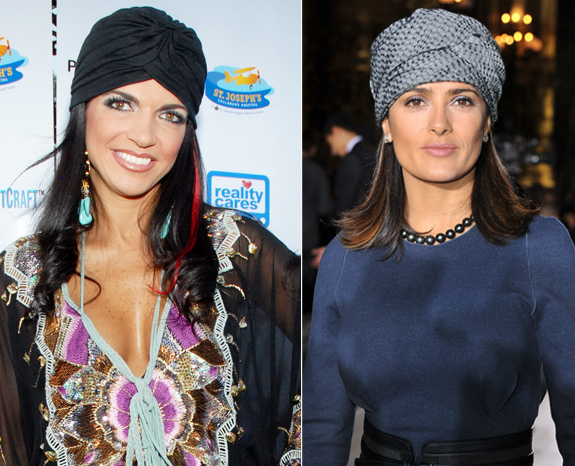 Not-so-dashing mustaches
Since when is wearing a fake mustache cute? Did we miss something?
Attack of the scarf!
Sure, it's winter and we're all about bundling up, but some celebs have taken their quest to stay warm a bit too far … as in, it looks like your scarf has put you in a chokehold.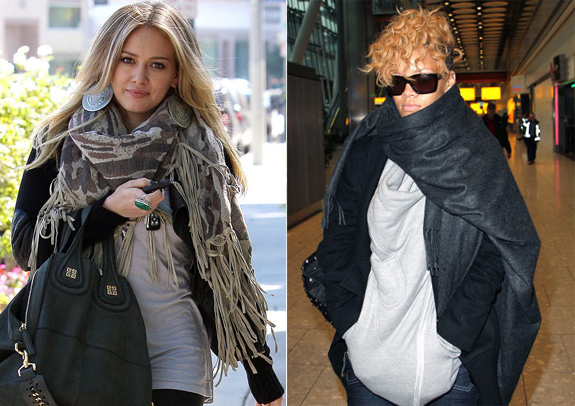 Looking like you've been gift wrapped
What do you get the girl who has everything … ?
Underwear as outerwear
Okay, Amy Winehouse at least has the excuse that she's adjusting to her new chest, but seriously ladies, why buy the cow when you're giving the milk away for free?
Droopy drawers
We hate to sound like your grandparents, but KIDS, PULL UP YOUR PANTS!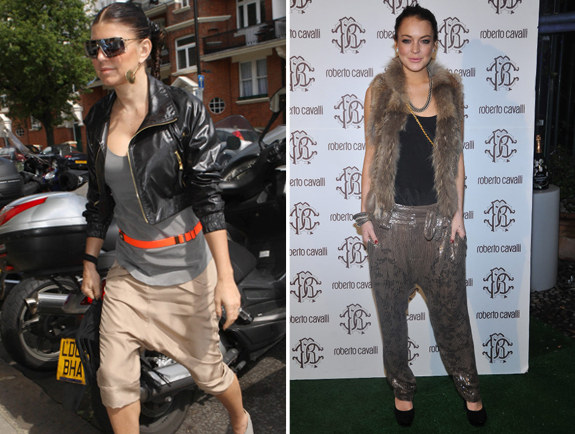 Anyone over the age of 5 wearing Hello Kitty
We'd like to say goodbye for good to anything and everything Hello Kitty-related. Please.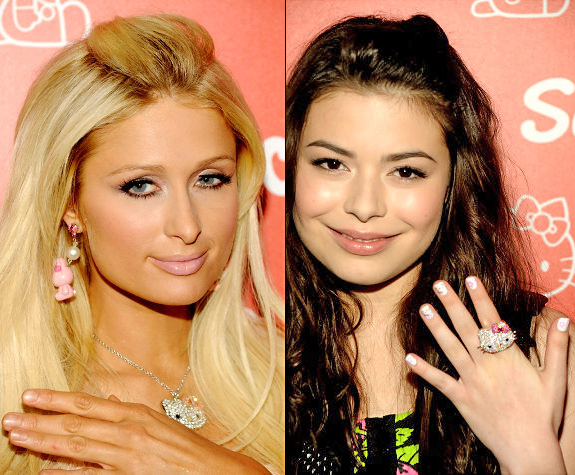 Dressing like a Muppet
If only PETA had a division that went after faux fur fashion disasters …
Trilby hats
Oh geez … because what the world needs more of is hat hair.
Dresses that choke you
We know fashion is pain, but cutting off one's oxygen for a style that isn't even cute … reaalllyyy not worth it, guys.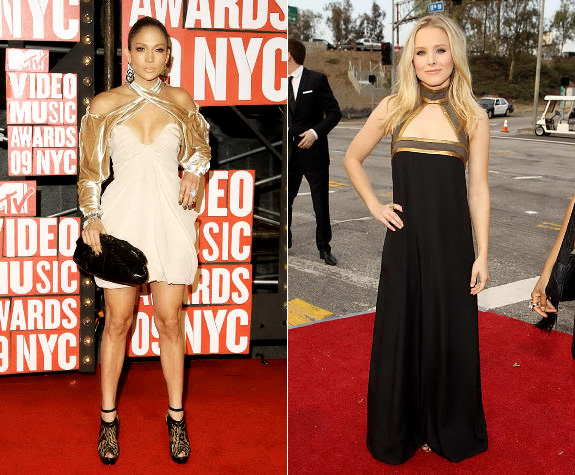 Going pantsless
It doesn't matter how short you are, shirts never count as dresses. Period.
Ridiculous jumpsuits
They're short, they're tight, they're sparkly, and they're all sorts of wrong. Nobody wants to see that much of you. Really.
Hammer pants
M.C. Hammer isn't coming back and neither should his pants.
Bloomers
Should we bring back bonnets as well?
Two-toned hair
There is nothing trashier than two-toned hair. Except maybe star throat tattoos …
Winter hats when it's not winter
First of all, this trend is ridiculous, why is your head cold?! And second of all, who told Justin Beiber to cover his beautiful hair?! For shame!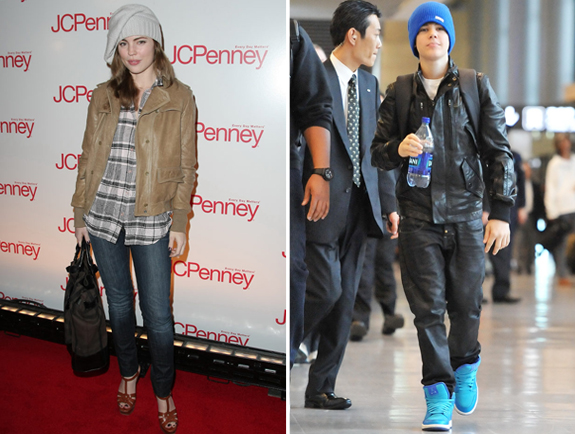 Sparkly tights as pants
Just because it's reflective, doesn't mean we don't notice you're not wearing pants.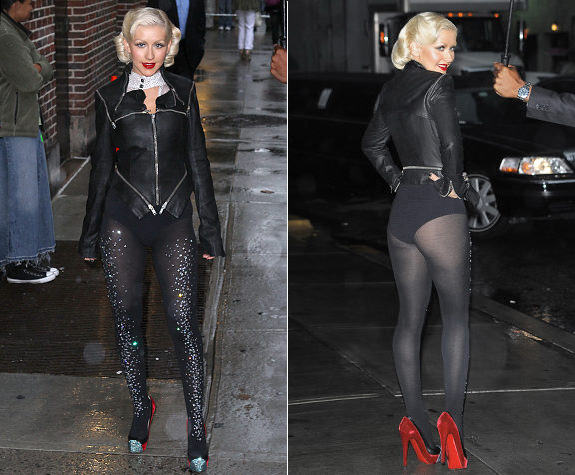 Blinding shades
And you thought texting and driving was dangerous .
Unnaturally colored animal prints
There are no turquoise cheetahs in nature. This is just tacky.
Ugh boots
Ughhhhh is right! Go away already! You're not cute and you do NOT need to be worn in summer with shorts.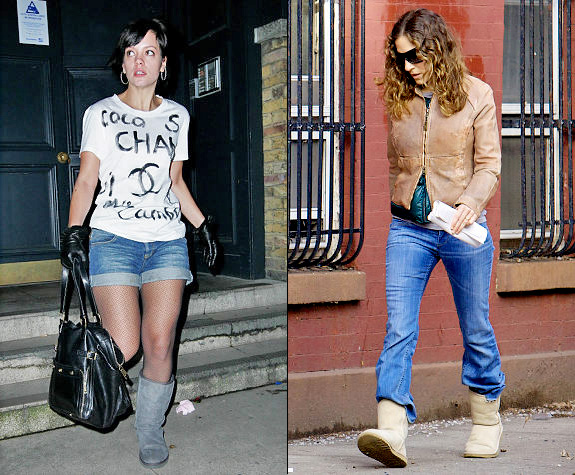 Cuckoo for tutus
Mariah, you're not a little girl playing dress up. How many times has this been explained to you?
Ray-Bans and plaid shirts
Riddle me this, Williamsburg: If all you hipsters are wearing the exact same outfit … how does that make you hip and edgy?
Leg warmers
The '80s are over and we all survived it. Please don't make us relive those memories.
Hippie headbands
Should we all just head back to the compound for some wheat grass shots now?
Bra tops
You're not fooling anyone. We know that's not a real shirt.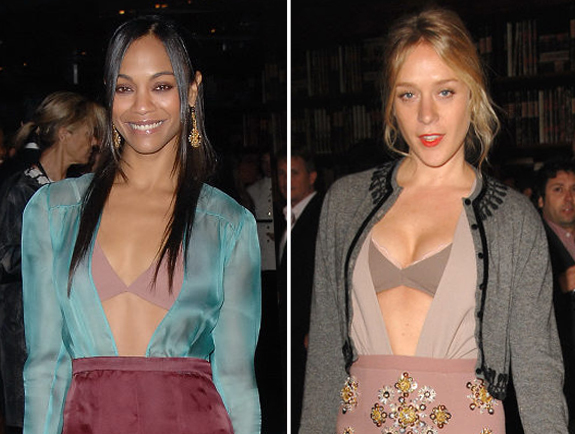 One-sleeved dresses
Because everyone wants to have one sweaty pit.
Trucker hats
Are we really still doing this, guys? Didn't this trend die a painful death after Ashton Kutcher stopped being cool?
Herve Leger bandage dresses
Just because it's tight, doesn't make it right. Please let this be the last of the Leger look … forever!
Linebacker shoulder pads
If this is how you think you can nab yourself a football player, your man may be playing for the wrong team.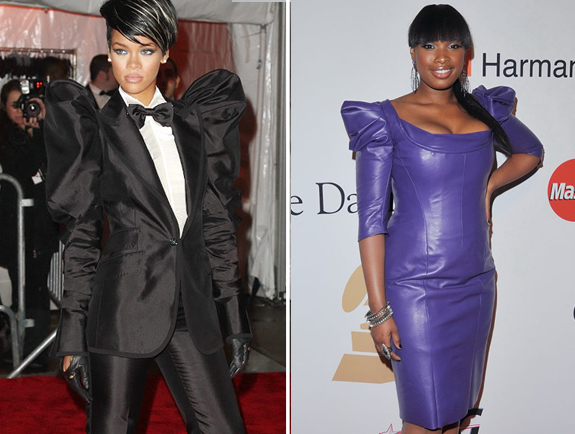 Related posts:
Filed in Cat: Celebrities Tags: Worst Celebrity Fashions, Worst Celebrity Styles, Worst Celebrity Trends, WTF Celebrities