By Tabi, on December 25, 2010
1. Atomic Testing Museum, Las Vegas, Nev.
A tour through the nuclear testing history of Nevada, the Atomic Testing Museum is a blend of the whimsical and the macabre. Test your rad level with a Geiger counter, get up-close-and-personal with a nuclear warhead or view the collection of Atomic Age paraphernalia on display.
Giant dinosaurs, houses filled with dolls and puppets, museums of the weird: America's most interesting roadside attractions are often overlooked, occasionally maligned, and usually hidden away from more heavily traveled areas. Sure, they might not be enough of a draw to warrant a visit by themselves, but they can more than repay the time spent diverting from a longer road trip or vacation.
2. Forbidden Gardens, Katy, Texas
This sprawling recreation of historical Chinese locations was built in 1997 at the behest of Hong Kong real estate mogul Ira P.H. Poon, who emigrated to the United States. He chose Katy, Texas, as the location for his museum because of its proximity to Houston and its large Asian population. Featured are the Forbidden City, in 1/20th scale, and a 1/3-scale recreation of the tomb of Emperor Qing Shi Huang-Di, called "The First Emperor."
3. Oasis Bordello Museum, Wallace, Idaho
The owners of the old bordello left in a hurry in 1988, but a local entrepreneur bought the building and restored it to its 80s-era glory, as "a reminder of Wallace's colorful past." Old videogame consoles, price lists, and a unique take on recent history are all on display daily for a $5 fee, and there's even a gift shop.
4. The Paper House, Rockport, Ma.
Engineer Ellis Stenman started his energy-saving experiment with newspaper insulation in 1922, and seven years later, he opened his home as an all-newspaper roadside attraction. Everything except the framework, floorboards and shingles is made out of pasted, coated, or rolled newspapers, and the entire thing took 20 years to finish.
5. RichArt's Art Yard, Centralia, Wash.
Artist Richard Tracy will welcome you into his home and backyard, both packed with the Styrofoam and metal sculptures he has worked on since 1981, and give you an hour-long tour–the first five minutes of which are free. "After five minutes he just stops and he won't say anything else," says Kirby. "You pay him $5, and he'll give you the other 55 minutes."
6. Solomon's Castle, Ona, Fla.
Three stories high and covering 12,000 square feet, Solomon's Castle is covered on the outside by shining aluminum printing plates, and packed inside with more than 300 works by local artist Howard Solomon. Begun in 1972 Solomon's project has grown to include a restaurant and a nature walk.
7. South of the Border, Dillon, S.C.
With 157 signs that are unavoidable on highways throughout the Carolinas ("50 miles to South of the Border!"… "20 miles to South of the Border!"… "You just passed South of the Border!") this roadside motel, restaurant, shopping and fireworks complex meets travelers raised expectations.
8. The Super Museum, Metropolis, Ill.
With more than 20,000 pieces of Superman memorabilia on display, the Super Museum is the lifetime work of Illinois resident Jim Hambrick, who owns more than 100,000 items of Man of Steel collectibles. An "overstuffed" gift shop and store delights fans–and those they drag with them.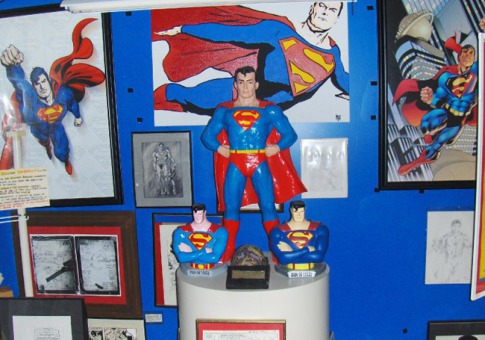 9. World's Largest Child, Edventure, Columbia, S.C.
"The South's Largest Children's Museum," features a 40-ft., 17.5-ton sculpture of a 10-year-old boy called "Eddie," and kids can "crawl through his heart, bounce around inside his stomach, and slide out his intestines." Geared toward helping children learn about their bodies and the world around them, the museum hosts many other activities for kids.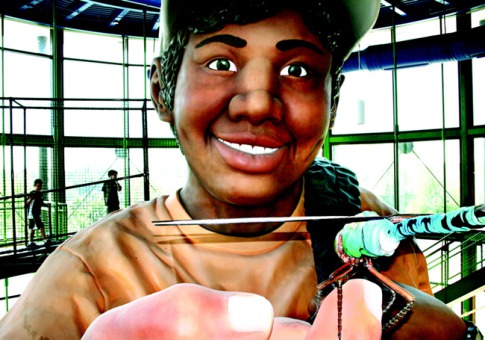 10. Vent Haven Ventriloquist Museum, Fort Mitchell, Ky.
Just south of Cincinnati, Ohio is "the world's only museum of ventriloquial figures and memorabilia." Visitors can, by appointment, view hundreds of the lifeless dummies on display in the museum's rooms and lining the walls. "One ventriloquist dummy can be unsettling, but when you see a whole room of them, it's quite an experience,".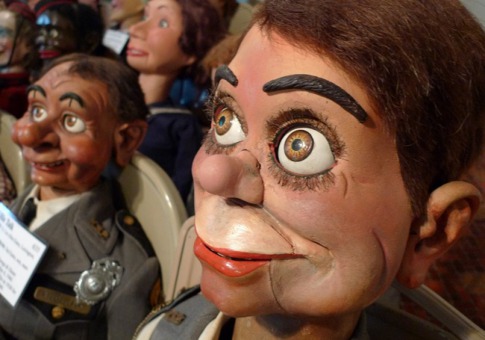 Related posts:
Filed in Cat: Top Ten, Weird Tags: Bizarre US Attractions, Freaky Roadside Attractions, Wackiest Roadside Attractions, Weirdest Roadside Attractions of America